What is the VeinGogh Procedure?
The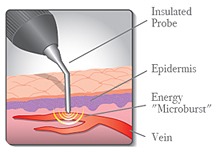 VeinGogh procedure, (AKA: Ohmic Thermolysis) is a procedure used to eliminate small size spider veins. Using an insulated probe, a fine needle is introduced into the vein to thermocoagulate (change temperature to) these blood vessels. A micro-burst of energy heats the vein, coagulating the blood and collapsing the vein wall. While not replacing sclerotherapy, which is the mainstay of treatment of lower extremity spider veins, the VeinGogh procedure is useful as a supplement to sclerotherapy. It can be used as the primary treatment of very tiny-sized spider veins of the lower extremity. It is also an excellent procedure to manage spider veins that appear on the face and around the area of the nose.
Is the VeinGogh procedure painful?
There is minimal discomfort during the veinGogh procedure, which often described by patients as a slight "pinch". For patients with a lower pain threshold, a local anesthetic cream can be applied prior to the procedure.
Treatment time is dependent on the areas being treated and varies from just a few minutes to 15 minutes. There is no post-procedure down time, and patients immediately return to their daily activities, even aerobic activities. When treating spider veins of the lower extremities, there is no need for post procedure compression stockings to be worn.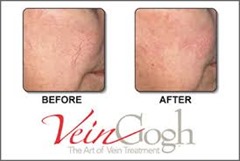 Patients will notice continued improvement over the weeks following the treatment. Often, red dots may appear in the area treated, and the use of Arnica gel will help in the healing process. Patients are encouraged to followup at the office in a few weeks to evaluate the outcomes.
To learn more about the VeinGogh procedure, please click here to visit our main site. See below to watch a video of this procedure performed on the television show "The Doctors".
For further information please feel free to contact our office.